About Us
We have been functioning with full devotion to lead our company, Panther Technologies, in the present competitive market of conveyor systems. Since our commencement in the year 2019 in the industry, we have been serving as a premier manufacturer, supplier and fabricator of an exceptional line of conveyor solutions. Our broad range of products include Mobile Loading Conveyor Systems, Bucket Conveyor, Carousel Conveyor Systems, Multi Screw Conveyor, Cement Screw Conveyor Systems, Rubber Belt Conveyor and many more. We use innovative approaches and technologies for their manufacturing which is why the products manufactured are absolutely perfect and of high quality. With all of this, we have been successful in reaching the zenith of growth and are endeavoring in the future to continue in this way too.
Why Us?
Currently, the market is full of opportunities and we have been putting all our efforts in grabbing them and flourishing our business. In order to achieve this, we carry out our operations as per the following factors:
We work with the motto of sharing the load of customers.
We are keeping our product range upgraded as per the latest industrial developments by carrying out deep research & analysis.
We keep the pricing of our goods as low as possible in comparison with the others in the market.
We have a dexterous team of professionals that uses its unique industrial knowledge to increase our productivity.
We are supported with an excellent logistics service for securely and quickly delivering the orders.
We maintain ethical business practices while treating the clients in our company.
Quality Control
Since we, Panther Technologies, are a company that provides specialized conveyor systems, our biggest concern always remains to maintain the best quality control. We source the raw material for the manufacturing of machines from only the trustworthy and most reputable vendors and make sure that the material is tested for optimum quality. After that, during the production of machines, such as, Carousel Conveyor Systems, Cement Screw Conveyor Systems, Mobile Loading Conveyor Systems, Multi Screw Conveyor, Bucket Conveyor, etc., we preserve the highest quality standards and make sure that every product developed is as great as the previous one. This way, we are able to maintain proper quality control at all times in our company.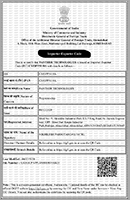 Read More